How to Maintain a Consistent Brand Presence Online During a Crisis
With the Coronavirus wreaking havoc across the world, people are taking to their homes both voluntarily and by order. It should come as no surprise that such a crisis has led to a sharp rise in online activity and social media usage. Facebook alone has reported an overall increase of 37%, while Instagram stories have seen an increase of 21% since the pandemic started.
People around the world are flocking to social media to find more information about the current state of the crisis, to share updates, and to find some light and humor during this dark time.
In turn, business owners and digital marketers everywhere are scrambling to keep their companies relevant and to find solidarity with their consumers. Unfortunately, as the situation worsens, businesses of all sizes are forced to limit their hours, adjust their practices, or even close indefinitely. 
The economic impact is ongoing and truthfully, just beginning. While businesses should be prepared for an uphill battle, there are digital marketing techniques they can adopt today to maximize their online presence during a time of ongoing crisis. Now, more than ever, it is crucial to maintain a consistent and reliable brand presence.
So, how do we market ourselves in a COVID-19 environment? 
Don't Ignore the Issue: Maintain Your Authenticity
While the goal is not to focus entirely on the actual crisis and instead promote brand-driven conversation, we still need to acknowledge it for what it is.
One of the best ways to find solidarity with your community is to recognize what's happening and how your business plans to respond. Rather than pretending like all is fine and dandy, know and act on the fact that your consumers will wonder what it means for your business and their relationship with it.
Whether you are a restaurant owner now offering delivery only, or a salon that must close and reschedule all existing appointments, you need to define your COVID-19 plan and share it with your customers. 
Let's face it: life (and work) doesn't just stop because there is a crisis, even though it may feel that way. In light of expert's recommendation to enact a 15-day pause to assess our preparedness and take steps to implement actions that will slow the spread of COVID-19, companies have been forced to rethink how they do business. And, what better way to spread information about new business practices than with social media.
Don't Forget to Be Human
As soon as your team has decided what to do from an operational perspective, reach out to your consumers on social media and through email marketing. In doing so, bear in mind the evolving needs and emotions of your consumers. 
Understand that people are feeling fearful about the pandemic, and concerned about their needs, the money they have spent and will need to spend, and what life looks like after this passes. At the same time, they are also already buried in thousands of posts related to the situation, so you want to state the facts in relation to your business, be empathetic, and address the most common questions your customer has.
For example, if you are a spa owner, you are more than likely closed by now, much to the stress of customers who may have already paid for services yet to render. Instead of sending out a message filled with fear and panic, calmly state that the health and safety of your clients and staff are of the utmost importance and therefore you have had to make the most difficult decision to close until further notice. 
If you have the opportunity to provide any of your services virtually, such as an hour-long meditation session, include those details in this social media post or email to inform customers how they can still connect with your business virtually.
Don't Polarize Your Brand
In conjunction with maintaining authenticity, brands of all types must find alternative ways to deliver on their promises. Rather than causing a divide, or operating in contrast to your community and competitors, find a middle ground that protects both your people and your consumers.
Taking the route of polarization may very well mean a difficult road ahead once the pandemic ceases. 
Reschedule appointments (and make it easy for customers to do so), go virtual, or provide free delivery and other incentives to still accommodate your customers while providing services. Offering your customers alternative and convenient ways to continue working with you will set you apart from your competitors while nurturing your relationship with your customers. 
Have a new special or offering a discount to help during these times? Share it on Facebook, Instagram, and other popular platforms.
Own a fitness studio? Offer free virtual classes on Instagram and Facebook Live, or offer subscription packages through your video platform of choice. 
Rely on memberships, in-person purchasing, and foot traffic? Make gift cards available for purchase on your website for customers to use at a later date. You can even encourage swag purchases to help your business stay afloat during these times. 
Universities and K-12 public schools across the country are taking to online education to close out the school year rather than deeming this an indefinite vacation. While this may not technically be considered a business or service, it's a prime example of adapting to meet the needs of their people.
Do Know When to Pause Activity
Ceasing online activity is entirely contingent on one's time, resources, and ability to maintain a presence. 
We highly recommend staying active with your customers and followers during this time, perhaps not with the same frequency and robustness of campaigns of the past, but enough to stay top of mind and non-obtrusive.
However, if you don't have useful information to contribute to the COVID-19 conversation, it may be best to stay quiet and limit your social media interactions rather than feeding into the already chaotic noise. Be there to address any questions and concerns, but avoid adding to the panic filling newsfeeds. Now is as great of time as any to get creative with your content and release unique, new content.
Pausing your automated marketing (such as scheduled posts) may be ideal in order to create a greater sense of real-time authenticity. You don't want to be caught auto-publishing a now-inappropriate post. 
If you decide to keep your scheduled posts active, read through them to make sure they don't touch on any irrelevant points or touchy subjects, such as,
"Looking forward to boarding your upcoming cruise? Here's 5 things we recommend you pack!" 
Share new developments and ideas to keep your audience excited, offer sneak-peeks into what's to come, and communicate any efforts you are making to help the community through this ongoing crisis. Conservative visibility goes a long way in times like these. 
Do Let Us Know When It's Business as Usual
As it stands, it is virtually impossible to know when things will return to normal. Coronavirus is new and still needs to be understood, and only time and joint effort will tell us when it'll be back to business as usual.
All we can do now is adapt, stay true to our brands, and be there for our customers for as long as we can and to the best of our abilities. 
Remember, creating a sense of connection – even if it is virtual – is essential in remaining authentic, relatable, and empathetic of how this crisis is affecting us all, especially with social distancing.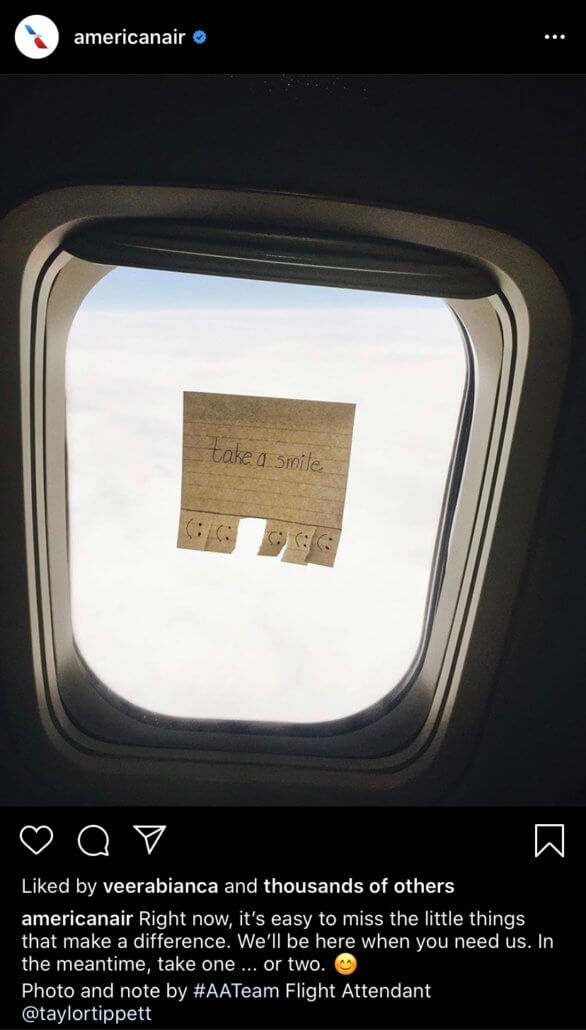 ---
---